Today I got a CD/Disk with all of the pics from the photo shoot I mentioned in my last post, and so I couldn't help but jump into Photoshop. They have this way of putting artistic filters on the pics to make them look cool and different. So then I had the idea that I could share my edits, and spotlight these wonderful people in my life AT THE SAME TIME! So that is what I am going to do. And so as to show no sort of favoritism (or at least none I would ever admit to) I am going to go in the order the pictures were taken. This may take days, because it takes time to play with the pictures, and for me to write the whole spotlight... but here goes.




This is my sister Sarah and her wonderful Husband Matthew, and two adorable sons, Alexander Matthew and Tyson Joshua. This family is by far the cream of the crop. Sarah and Matthew are both so very talented in so many ways, and I am not saying that in a generic generalized way.

Sarah is: Artistic, Helpful, Energetic, Sympathetic, Caring, Loving, Thoughtful, Organized, and Crafty to name a few of her many wonderful qualities.

Matt is: SUPER SMART, Helpful, Funny, Thoughtful, Hard Working, Sincere, Patient, and Loves my sister so much, makes me love him all the more.

Alex is: Loving, Friendly, Happy, Cheerful, Inventive, Outgoing, Sensitive, Smart, and so Handsome. Alex is a lover. He gives great hugs, smiles, and happiness to all he reaches. He is autistic, which makes certain milestones, and speech and verbal communication more challenging for him, but he has grown and learned and matured so much over the past few years with help from various therapy programs offered in their area, as well as the patience and loving care provided to him by his loving parents.

Tyson is such a sweet boy too. He has the most beautiful eyes, and is very loving and friendly to all he meets. He has some developmental delays, but is progressing rapidly also with therapy programs.

My sister is so amazing to me, with the love that she provides to all she knows, and her strong desire to help everyone around her. She and I have always had a close relationship, and shared a bedroom for many years growing up, which also helped to strengthen our bond. She has so many talents, from Graphic Design to Painting and Drawing, to Arts and Crafts, to painting furniture and kids toys to give them a face lift. I love her so much and am so glad to have her in my life. She is so strong, and I hope one day to be strong, like her.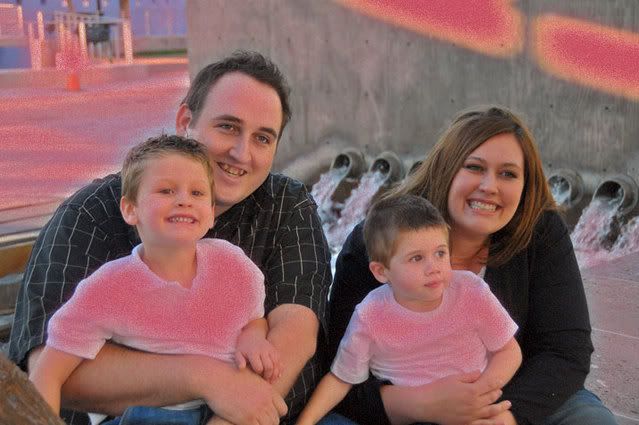 I've decided that everything looks better with a little more red, and that's why I'm around...