My Sister Wendy is so many things to me. She is my friend, my Nurse, my Second Mommy (in childhood), my shopping companion and one of my people to vent to when things are crazy in my life. I am always glad to be there for her to when she needs me for the same.

She is such a great Mom, not only to her wonderful children, but to the care and aide of anyone who is in need. When I went to the hospital to have Scarlett, I was SO GLAD to have her by my side, watching over me, and understanding all of the technical terms. She was there to assure me that things would be okay when there were complications with my delivery requiring an Emergency C-Section, and was there to remind me that I didnt have to wait to get my wonderful Epidural during those wonderful contractions. She is an RN, and works at the Mayo Clinic, so she knows her stuff, and is the best nurse in the world (in case you were unaware). She is definitely the right person to have in your corner. She brought me good shampoo and conditioner, and two pony tails so I could put my hair in pigtails at the hospital like I wanted. She is such an amazing and loving person.



She has bought Scarlett so many beautiful outfits, and buys clothes for all of our siblings babies. She would never allow any child to go naked, no matter the expense to her. She works so hard, way beyond the call of duty, so that she can give to others, and be there for those in need. She is also very good about knowing the sales on the best quality clothes for bargain prices, which is one of the reasons why I love to shop with her. I love her so much. She is truly one of my very best friends.

Her boys are so handsome. The oldest, Brian III is so smart, and keeps you on your toes, never knowing what new tidbit he has learned, and has to share. Griffin Mazer is so adorable. He is their middle boy. He has so much sparkle and excitement in his eyes, and in EVERYTHING he says and does. Through his eyes you can see all of the wonder and innocence that comes from inside a child. All the world is a stage: to be explored, enjoyed, and played on. Lincoln, their youngest is so strong and tough, as one would have to be as the youngest of 3 boys. He can get hurt and just bounce right back up again. He and Scarlett are very close in age, so I am constantly impressed with his risilience, and easygoing nature, not to mention how strong and limber he is. He is truly all boy.

It is so fun to go to their house, because Scarlett loves to play with their fun toys, her favorites being: The indoor playhouse, and the back yard, equipped with a safe trampoline, and a lots of space to explore. Every day, Scarlett asks me if we can go see Didi(Wendy), Brian, Griffy and Linky, so you know they have made a lasting impression, not only in my mind, but the heart of my two year old.

Wendy's Husband, Brian is such a great guy. He is totally funny, and very knowledgeable about pretty much any topic one might bring up. He also loves to play video games and take his boys on such fun adventures, even long car trips which he will brave on his own sometimes without Wendy.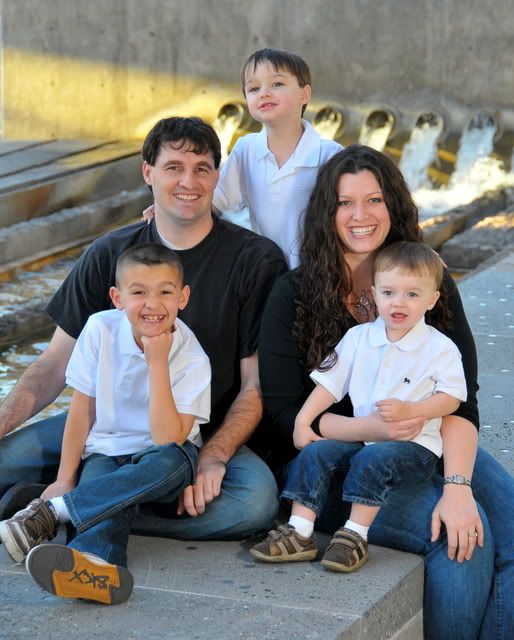 They are such a beautiful family, and I am so glad to have them, and especially my sister, in my life.