So I was just reading a blog of an old High School friend of mine (named Matt who just turned 24) and he said something about feeling a desire to grow up a bit, not to go crazy or anything but a desire to feel a little less like Tommy Pickles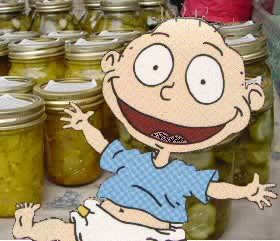 (from Rugrats for those of you who didnt know) and a little more like Doug Funny
(from D0ug) only minus the green sweater.
I told him I could support this aspiration and long as he didnt go overboard and shoot for Dagwood.
I have to admit all this consideration made me wonder which comic/cartoon character I most relate to.

In my younger years, i always related best to Daria. I dont think her show is still on the air, but in Jr High and High School, I was so sure she was my animated equal. It would have been a three way tie between her, and Enid from Ghost World(which was later made into a movie), and Emily the Strange.

Today, though... Being a mom, I think I need a more Momly animated Character twin...

(
from here
)
I would like to be able to say that this is me: but I am not going to flatter myself.
perhaps this is more me:
or definitely this one:
But I have always aspired to be like the Family Circus Mom, who I just discovered in my google searching for an image, that the woman who was the inspiration for the Family Circus Mom died last year in May, (
check out the mini article here
). I really liked her new updated hairstyle about 12 years back.
Looking good, and always having the right answers. The model mom. :)