There is a Youth Scrabble Tournament on TV right now on ESPN. How funny is that? These kids are really good. Though it is kind of boring to watch. haha i found a pink scrabble board online!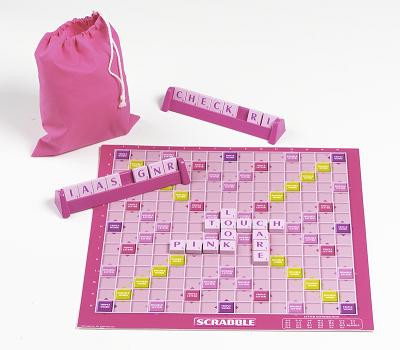 Yesterday there was a barbecue at my parents, and my mom actually came and picked us up. My dad also gave Joe a bike, so he is very excited to soon start biking to work. Scarlett loves to hear kids talk, she thinks my nephew Brian is the funniest thing she's ever heard, she just ROARS in laughter. My parents were so entertained watching them. Scarlett is currently laying in front of the TV talking to it. She's very social even if she doesn't necessarily have the desire to crawl.
We think she's the cutest baby ever, but we may be slightly bias. I know its been a long time since I posted any pics of her, but thats because I loaned my husband the camera when he went to Vegas, and he never found the charger for it, so I can't even upload the pictures from my camera onto my computer or take more pictures. I've been pretty sad about it. Yesterday we went swimming again, and I would have liked to get some pictures. Plus she is getting a lot longer and I think she looks a little slimmer in her body. She rolls around to try to get places but her precision in where she rolls to is lacking, and seems to be a little frustrating to her. I wouldnt want to go back to helpless childhood.
Last night Wendy and I went and saw Death Sentence, the new Kevin Bacon movie. It was really good, but extremely violent and had a lot of questionable language for those of you with concerns about those things. John Goodman was awesome in it too. I know my husband will like the movie. It was action packed, and intense all the way through. Thumbs up from me. I put a couple pics down below from the movie.
I'm getting hungry; I think I will start thinking about lunch and getting my baby dressed. all our love.