I looked like this: (Scarlett took these two pictures)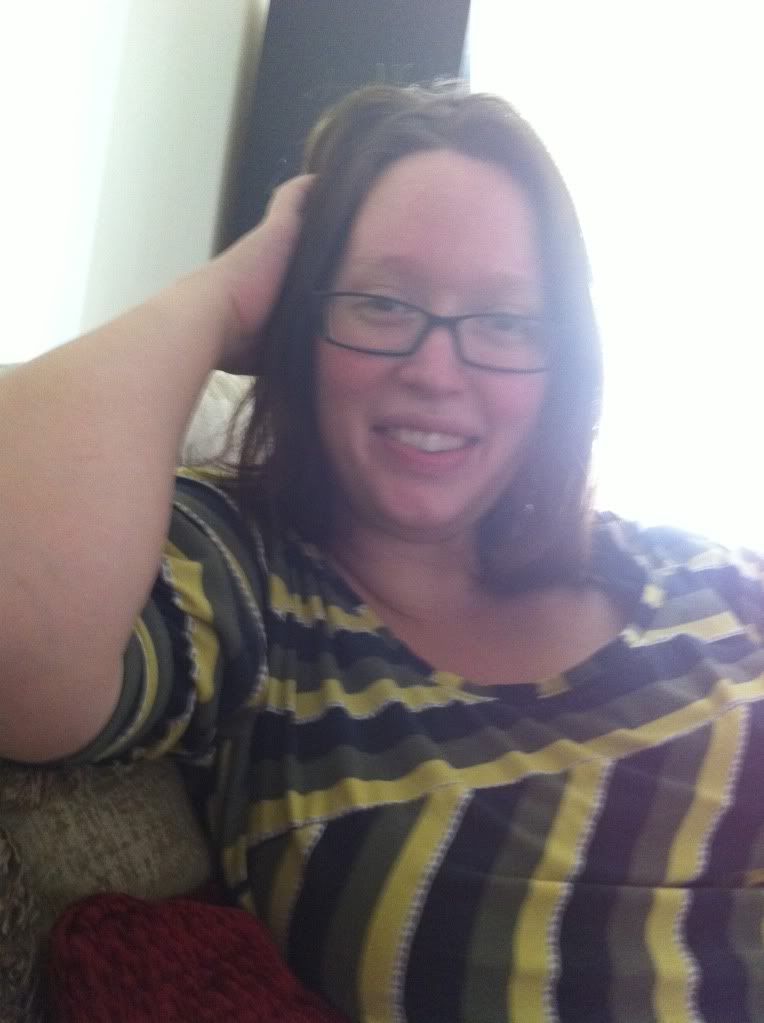 ... and I was miserable, and a day past my Due date... so I went to the OB, and he was not thrilled with my progress, or lack thereof. My odds for a successful vaginal delivery were rapidly going down the crapper, and I was SO done with this being pregnant thing. So after weighing out the options with the Doc, we decided to Schedule a C-section STAT... the following morning.. (as mentioned in my
previous post
) So, we went in, with our letter in hand, and reported for surgery 2 hours prior to the scheduled 8am delivery time.
here's a LOVELY (not really) pic of me all dressed and wearing my "funny hat" to go into surgery. He is so good at capturing my awkward expressions, and his own, too. He was excited to get this thing under way too. He recorded my surgery and everything with my iPhone... I haven't been brave enough to watch it yet...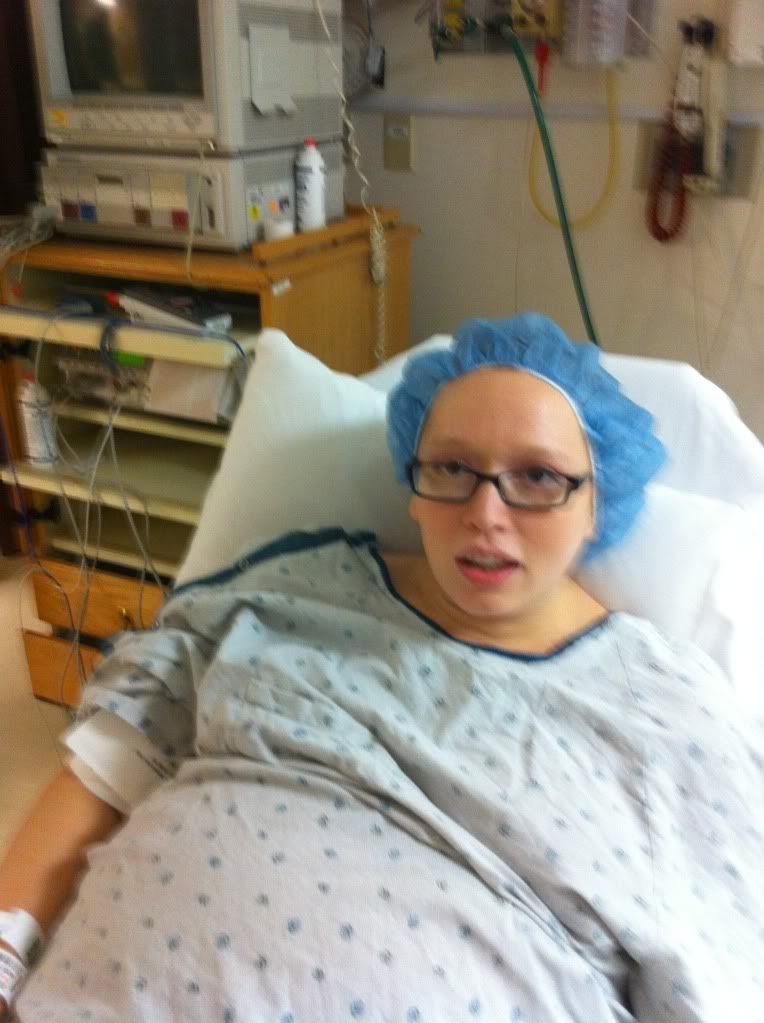 I so totally moisturized, put on foundation and eyeshaddow to look nice for this delivery... okay there, I admitted it, now forget I said that... and think it's a natural "glow" :P
WORST part of the surgery was that *damned* yes I swore, sorry about that, SPINAL! It is so much worse than the epidural. I do not buy that I was "distracted" by my contractions last time making it not *seem* so painful... This was Hell in a Handbasket... and the guy ASKS you if it feels centered or to the right or left, you rapidly blurt LEFT! or RIGHT! as you are in excruciating pain. There is an "assistant" to the anesthesiologist, mostly just there to HOLD you while you sob motionlessly from the PAIN of the insertion of the thing that is supposed to help you AVOID pain... I had Joe take a picture of me after this experience, so that I wouldn't forget it, and you could see that it really WAS an awful experience.
The surgery was a success. Eloise Jane Rawlins was born. Joe says she came out with eyes wide open. 6 lbs 11 ounces born on 11/6. 17 inches long, head 15".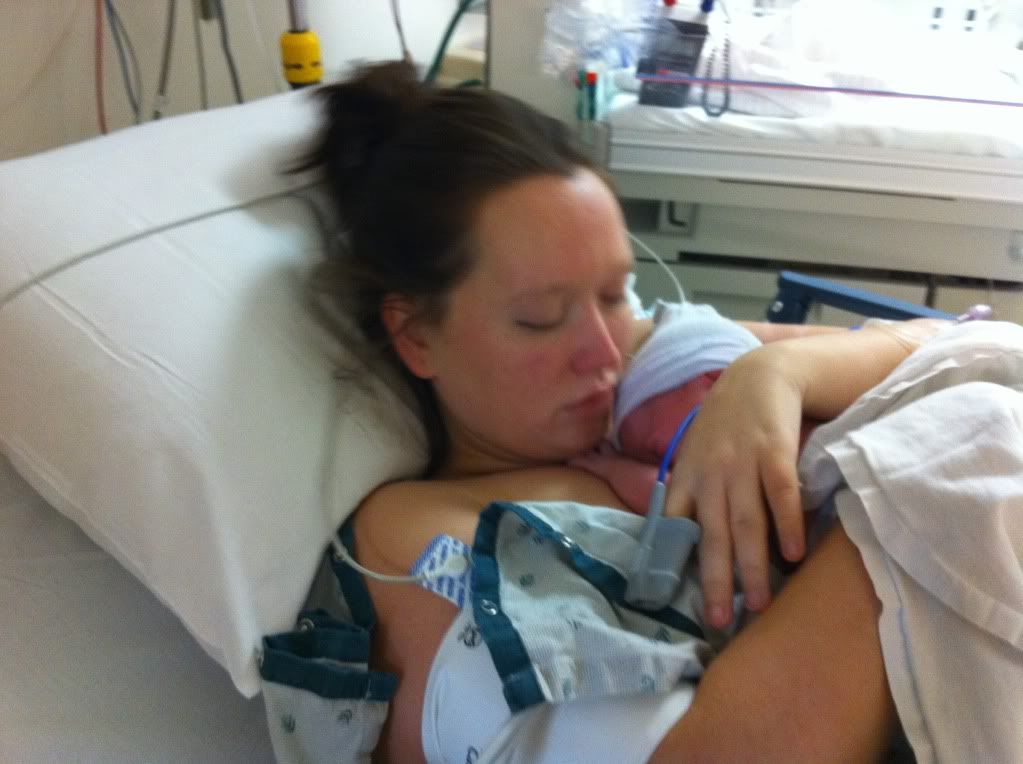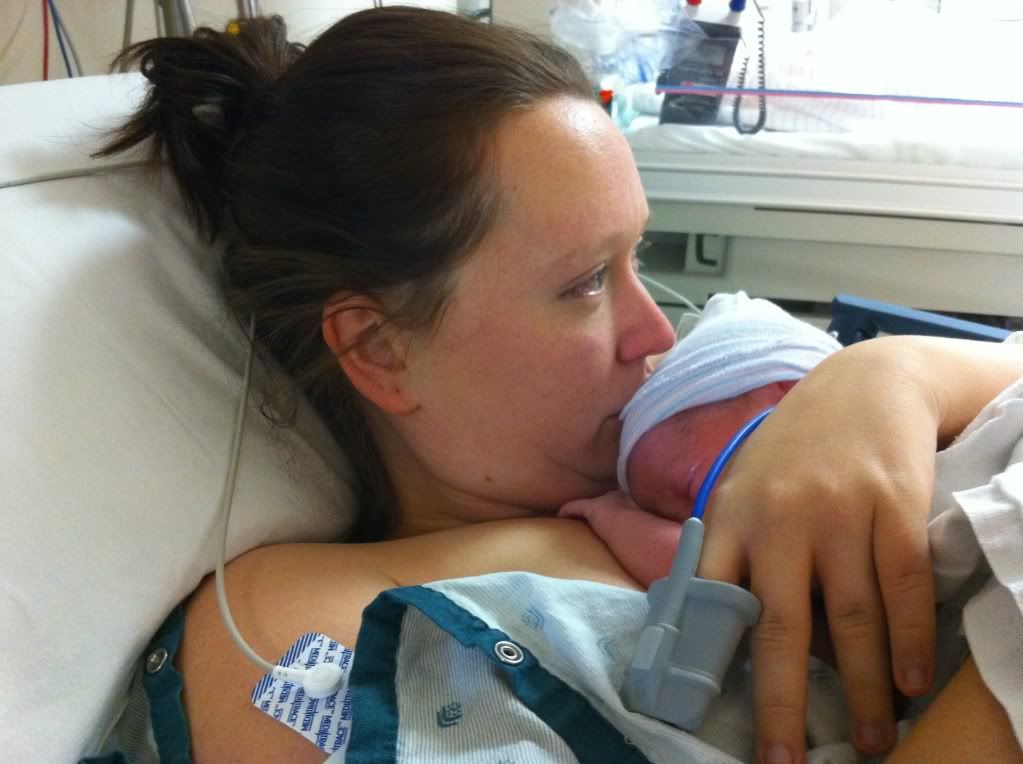 When Joe brought her to me the first time she was still fussing a bit, and I started talking to her and gave her a kiss on her forehead and she calmed down right away. Something magic about how they already "know" Mom directly from birth.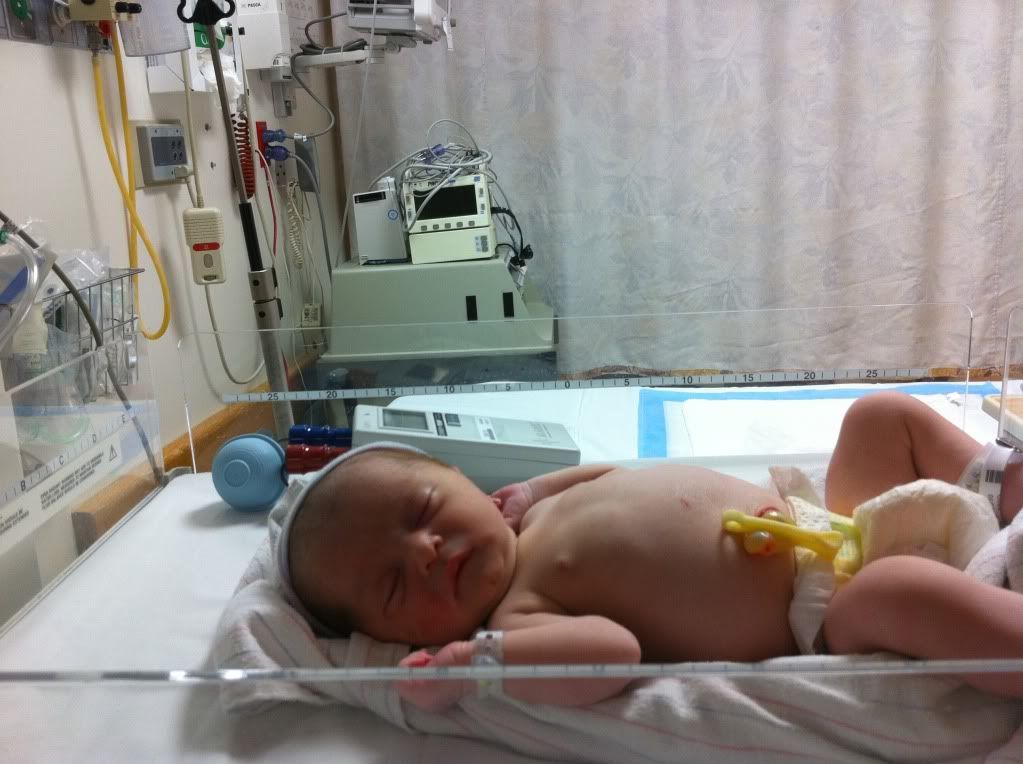 They even put little "low-jack" things on their legs so that nobody can just walk outta the hospital with your baby unnoticed. This made me feel good. Plus I thought they were kinda cute...
They got us to our room....
....and people came to see her throughout the day. I am sorry to say I did not get any decent pictures of my in-laws with the baby, and that is saddening to say the LEAST.
My Hospital Recovery went swimmingly. The nurses kept being impressed with how quickly I was able to move on my own, and walk with ease. I think it's just because I felt so much better than I did after the first one that I was ready to take on the world! I also had them keep the pain medicine coming on time the entire time I was there, and for the most part the Nurses did good at keeping me in my drugs. I had a lot of great nurses, and only one shabby one. I debated back and forth if I was going to go home after 2 days or 3 days, and decided to opt for the extra day of rest.
They took wonderful pictures of Eloise at the Hospital, and I'll post those pics in another post. Here are some I took in the Hospital:
by day two Scarlett was ready to try and hold the baby but was unaware she wasn't just supposed to toss the baby out of her arms when she was done. it was pretty funny, luckily she was sitting on the bed with lots of room in front of her... I had just told her, "hey, let me know when you are done with her and I'll take her back, we don't toss sister"
She thought it was easier when I held the baby. :)
bringing my own blankets, hats, and clothes for the baby really made things more enjoyable in the hospital. Also bringing clothes for me to change into for the last couple of days for me also helped me feel more human again.
first wide eye open picture
All in all, Eloise is a delightful baby and for the most part very contented. She does like to eat, a LOT, and during the daytime my milk supply is enough for her, but at night she likes to have some supplemental formula, too, so that she will go down for the night. I need to stop thinking I could just feed her longer to give her what she needs, because it just doesn't seem to be the case and I just get more and more frustrated trying, plus by then I am so exhausted, that my coping mechanisms are less than stellar. I am always so grateful for the sleep i do get. Sleep is a magical wonderful thing and like a drug I wish I could have MORE and More and MORE!!
Scarlett has done pretty well adapting... though is sometimes even more overly emotional about things and I try to explain to her that I hear what she is saying but she will have to wait until the baby finishes eating before I can get up and get/do ABC&D for her.
My pain is pretty much nil. They used this dermabond stuff for my incision instead of staples, and I think it also helped ease my recovery process... but the other day i noticed an unpleasant smell that showering did not remove, so I went to the doc yesterday and apparently they just needed to take the glue off, it was starting to come off on its own and was holding onto odors it came in contact with... and I'm going to try to keep a pad or something over it to keep it dry.
Here are a few pics since we got home.
Well, my girls need me, so I'm off. Sorry for the delay, time seems to be in short supply. Lots of love,