I know we all have those days, were we pretty much go on strike... Yesterday was one of those days for me. I refused to take a shower, Refused to put on anything cute to wear, refused to put on make up or do my hair, and surprise surprise, I had a crappy day, and felt sorry for myself all day long, ending it with a Migraine...

We went to Wendy's Old Fashioned Hamburgers for lunch. M and I both had dressed our toddlers in Green shirts and brown pants. Every time we hang out, our kids are dressed in the same colors, our minds think so much alike, its almost scary! I had the biggest migraine (returning from last night) by the time I sat down to eat. I decided, I was not going to let it ruin my day, so I made a pit stop at QT for gas (which was 5 cents MORE expensive at this one than the one I normally go to BOO!) and got a Diet DP and some extra Strength Excedrine. I definitely am addicted to caffeine... this is a problem, and I think I need hypnosis.... any hypno-therapists feel like taking on a pro-bon-o case? While they are at it, if they could figure out how to make me stop eating so much, that would help too... :P I crack myself up..
My headache was gone in 20 minutes, and now I am having a fabulous day. We met up with M and her boys at Save the family. We got some great vintage board books for Scarlett. I also found 2 cute shirts "Avenue" Brand in the 25-cent bin outside, for another friend, and a Mary Poppins keychain for Mary Poppins, and dropped it by her shop on my way back home. I took one of her business cards, and Scarlett just loved it, "the cutest puppy I eber seen"... on it. For me, I found a cute little cameo Pin for me at the thrift store too.. I am wearing it in the picture below.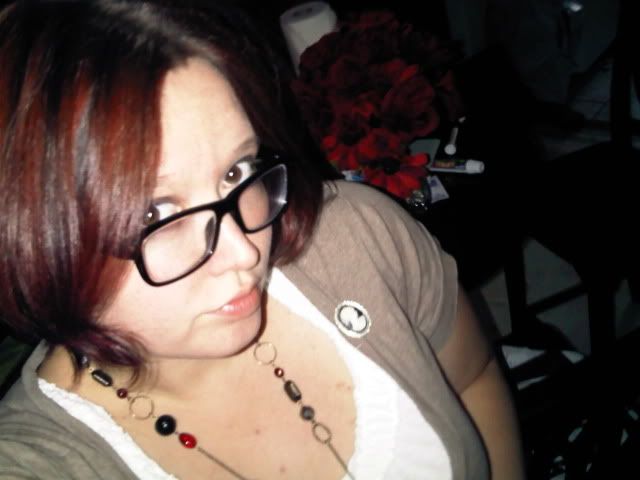 I brought Scarlett home, and she is napping. When she wakes up, we are going to Meet up with Malia to hit up Costco... I really need some more wipes... it is no fun dreading a poopy diaper due to "ill-preparedness." Thats all for now... Lots of love...